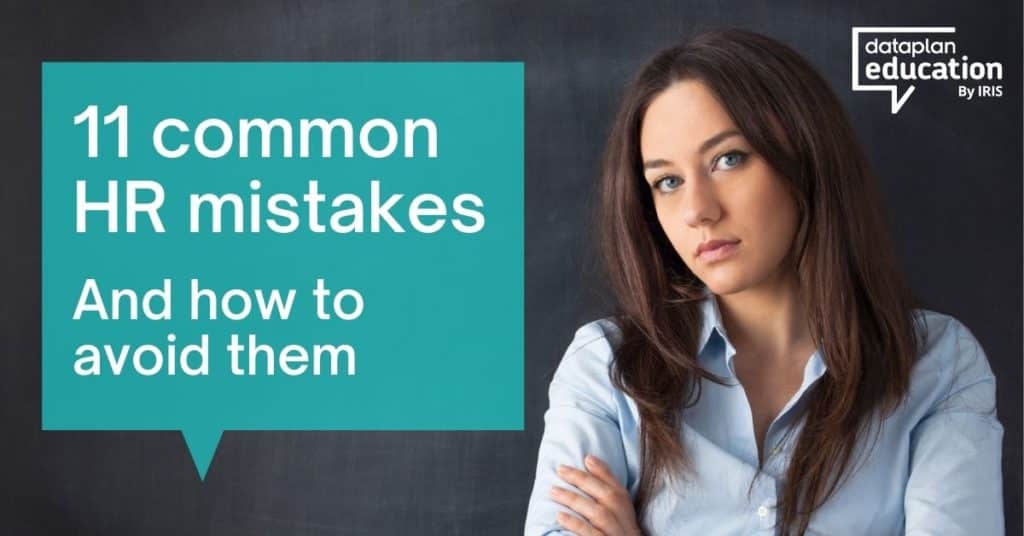 At Dataplan Education, we support many of our school clients with HR-related issues, from minor tasks to big projects like restructuring and casework. Through our years of experience conducting in-depth HR audits, we can identify common problems that we often encounter in Schools.
All too often, we see the same common mistakes that are easy to fix but can have wide-reaching implications for the Education establishment and affected employees. Here we will explain some of the most common HR mistakes we find, their significance, and how to avoid them.
1) Not agreeing part-time teachers directed time at the beginning of the academic year.
Directed time is the time during the academic year when a teacher should be at work or available for work. For part-time teachers working hours are a percentage of a full-time equivalent's directed time. For instance, in a normal school year, a full time (100%) teacher's directed time is 1,265 hours. Therefore a teacher working three days (60%) would have 759 hours of directed time.
Teachers should sign an agreement (manual or online) agreeing with their line management on their directed time as early as possible at the beginning of each academic year. Full-time teachers usually attend all activities but still have a breakdown of their directed time.
If a school does not have this process in place, then a part-time teacher may not attend all the meetings, parent evenings, and other school activities, leading to problems.
If the time is directed at the start of the year, the school and the teacher know what is being attended, the teacher can make provisions such as childcare for meetings they are directed to attend.
2) Not providing the correct employee liability information when TUPE'ing into another school/multi-academy trust.
There is a legal process to follow when TUPE applies to your employees/organisation as the outgoing employer. As part of due diligence, the school will be requested to provide Employee Liability Information to the new employer, including written terms and conditions of employment, active disciplinary records, and collective agreements.
If employee liability is not provided on time or the information is incorrect, a claim could be made against you (the outgoing employer). If successful, the new employer can receive up to £500 for each employee where the information was incorrect, or no information was provided.
3) Not including Headteacher clauses in main terms and conditions of employment.
This can result in Headteacher's only having to give the same period of notice as a regular teacher and also means no reference is made to Headteachers duties and times that they work, which can be very disruptive for the school. In addition, the Head has no clearly defined differences from other teaching staff.
4) Not paying the correct holiday pay for casual workers.
Where the school has not paid the correct holiday pay for casual workers, they could be taken to an employment tribunal. Holiday pay is a statutory right for workers and employees. The law changed in April 2020 for workers with no fixed hours (zero hours and casual contracts). The reference period for holiday pay changed from 12 weeks to 52 weeks, which should be applied to workers taking leave. Therefore a week's leave is the average of the last 52 weeks' pay.
Rolled-up holiday pay (spreading the holiday pay over the year by adding an amount on top of the employee's hourly rate) should not be used as a method to calculate holiday pay and is technically unlawful.
5) Not following absence management policy and procedures.
Where an absence management policy or procedure is in place, this must be complied with. If it is not, the affected employee could pursue an employment tribunal. In addition, the school could potentially pay out substantial awards for failing to follow its own policies and procedures.
6) Holding disciplinary proceedings without a proper investigation taking place.
Not carrying out a reasonable investigation could mean that any decisions in a disciplinary case are likely to be unfair and risks legal action being taken by the employee.
7) Not dealing with issues promptly.
Not dealing with issues in a timely manner leaves the issue at risk of escalation. This can lead to many problems, including damage to organisational reputation. It can also lead to severe damage to the employee and employer relationship, leading to a breakdown in trust and confidence.
8) Failure to update and review policies and procedures.
Policies and procedures should be periodically reviewed to ensure they are updated with the school's current values and legally compliant. Failure to update policies and procedures could mean that employees' issues are not dealt with in a legally compliant or timely fashion, leaving the school subject to an employment tribunal.
9) Turning down flexible working requests without a valid reason or following a process.
Ignoring, mishandling or refusing a flexible working request without proper consideration could lead to the employee claiming against the school for direct or indirect discrimination.
10) Applying special/personal leave unfairly and potentially discriminating against employees.
As an employer, the school must be fair in assessing and applying special and personal leave, and they must comply with their own policies and procedures. Failure to do so can result in the affected employee pursuing an employment tribunal and the school potentially paying out substantial awards for failing to follow their own policies and procedures.
11) Not issuing contracts of employment on or before day one of the employee commencing work.
Since April 2020, the law has been much stricter on the issuing of contracts of employment. If the employee makes a subsequent claim against the employer for unfair dismissal, the fact that the contract of employment wasn't issued on time can be added to the tribunal claim. The penalty can amount to between hundreds to thousands of pounds if the employer loses the case.
For more help and advice on managing your school's HR issues, please contact us. At Dataplan Education, we offer a range of HR service options, including self-service contracts management, managed contracts management and a full HR advisory service.