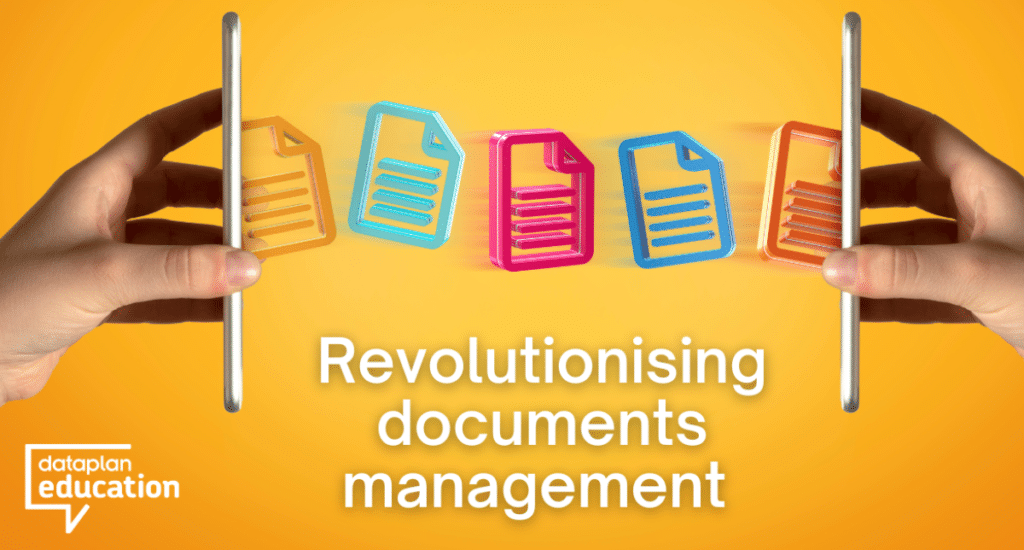 At Dataplan Education, we are delighted to announce the latest module to our payroll, HR and pension portal, VERA. Our new Documents Management module is available as an optional add-on following a successful testing phase with the help of some of our clients.
Traditionally, the administration behind statutory documents such as contracts of employment is a real headache. Incorporating all the data needed, making sure templates are the most up to date and then manually creating and sending out, takes up valuable administrative time.
VERA Document Management simplifies this process and we have successfully provided this service as part of our soft launch to 100 schools and MATs, who are using the system to drive efficiency.
Why is documents management important?
VERA Documents Management allows schools to import any information held on VERA on the employee, contractual or personal, into a document. It uses the information held on VERA as a single source of truth, accurate and up to date.
The document could be a contract of employment, a maternity letter, absence management letter or ad hoc letters, as were needed during the COVID pandemic. The options are endless; it can be any document the school wants it to be.
How does it work?
Using VERA SMARTforms, we customise fields to match information that the school might need to capture, such as spinal point ranges, end of probationary periods and full-time annual leave entitlement. This ensures VERA captures that information when adding that employee onto the system and enables it to pull through onto a document.
Clients can have an unlimited number of documents, which allows them to standardise letters and documents being sent to staff with a suite of their bespoke templates that are always there to use.
For Trusts, permissions can be set at the head office level so that templates can be set up and updated to be used by all schools, but individual schools cannot edit the templates. In addition, changes made to the master template at head office will automatically update templates for all of the schools within the Trust – saving time sending updated versions or the risk of an old version being used.
There is also visibility of who has created the document and who has edited it last. It also shows when a document has been signed and by who, essential for a document audit trail.
What is the benefit of documents management?
At the moment, non-document management clients will manually type in or may even use mail merge to produce these types of documents. This can take a long time depending on the school's process, for example, if spot checks in the information for every employee and it also removes the chance of mistakes being made as the information held within VERA should be up to date and have been checked for accuracy.
The process is much quicker, and we also have an online signatures feature which allows the school to generate the document and then send it to the employee. The employee can sign it electronically. This is then sent to the school, and a copy is held for the employee's records within their ePayslips portal.
With Documents Management being an electronic process conducted through our VERA and ePayslips portals, it is also much more secure. Users are required to log in at both ends, and there are no chances of the document being lost in transit as it could be with a hard copy.
What is the on-boarding process?
During onboarding, we will set the permissions and create two templates for the school or Trust. We will request copies of all of their contract templates and then perform a gap analysis to ensure that all the required information is being captured in VERA. If it is, we will go straight to creating the two templates; if it isn't, we will update their SMARTforms in VERA to begin capturing this information and then create the templates. The contracts we upload are usually teacher and support; then, it is the school's responsibility to upload other versions and templates.
Schools receive full training on using the Documents Management module via live demos, which can be tailored for head office and individual schools and on-demand video tutorials. Additionally, our VERA and HR team are available for ongoing support and any queries that arise.
The system has been designed to be intuitive and because it sits within the familiar VERA portal, we have found schools are quickly up and running with the system.
What is the future of Documents Management?
We are in the process of mapping out future developments which will provide clients with even greater benefits and efficiencies through Documents Management. In the future, clients will be able to generate documents and send them out in bulk. At the moment, Documents Management is a one-to-one feature.
This could be something again like a COVID-19 letter, and we expect it will save schools a huge amount of time.
Would you like to learn more about how Documents Management could help your school? Contact us to speak to one of our education experts.