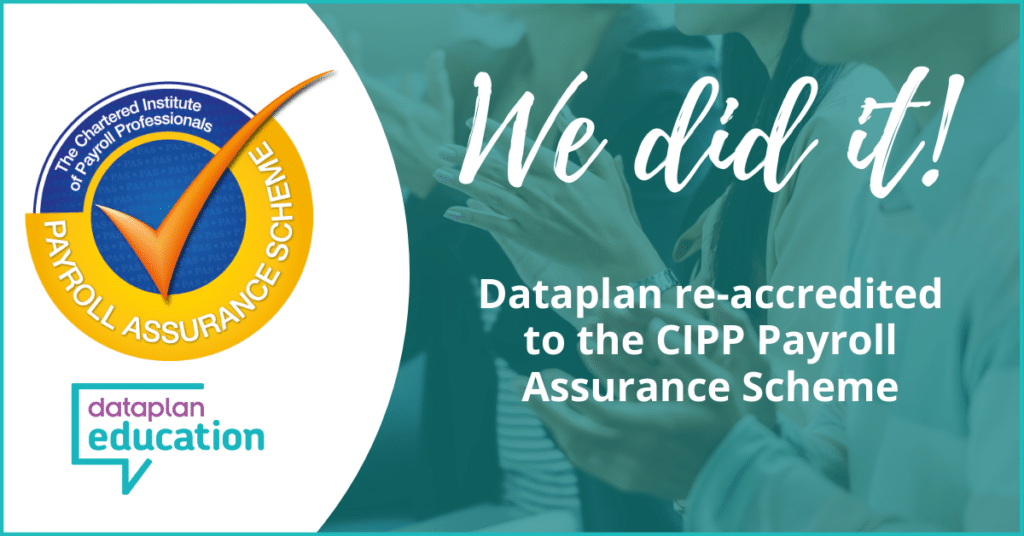 Here at Dataplan we are proud to announce that we have been reaccredited for the prestigious CIPP Payroll Assurance Scheme (PAS). To tell you more about the scheme, as well as the benefits for our people and clients, and how we passed our assessment we sat down with our Director of People and Quality Elaine Gibson who led the push for reaccreditation.
What is the Payroll Assurance Scheme?
Created by the Chartered Institute of Payroll Professionals (CIPP), PAS is their flagship payroll audit solution. It assesses and looks across all of a service provider's processes relating to payroll and pensions. A large portion of the assessment looks at a service provider's people and their organisational culture, which is something that Elaine was keen to focus on in order to obtain our accreditation.
What does PAS test about an organisation?
The PAS audit involves visiting a payroll and pension service provider's premises to audit their systems and processes, as well as interviewing their people.
On the day of our audit Elaine was on hand to show our assessor round, and commented "she actually spoke to a number of different people to ask them about different aspects of their role." In particular the assessor wanted to check for "evidence to show how different elements are checked, and how our people within different teams are kept up to date on the latest best practise guidelines."
To satisfy the people element of the audit, the assessor spoke with Elaine and other team members to learn about our training and development, appraisals and company culture.
The benefits of being a PAS accredited employer
There are many benefits of being a PAS accredited employer. For employees, it provides peace of mind to know that they are being trained to a high standard and that we are an employer who is committed to their ongoing development.
Being PAS accredited shows that we are operating best practises and that we are compliant. In Elaine's words "there is always room for improvement and we will build on what we are doing know because we know that we are on the right trajectory and can only get better."
PAS accreditation provides reassurance for clients
These days more and more organisations are aware that the PAS accreditation exists, and in recent times we have had more clients enquiring as to whether we hold the accreditation. For them PAS provides reassurance when sourcing a payroll provider to know that the organisation operates to a certain benchmark and helps them to cut out some of the confusion when looking to outsource their payroll function.
Of the benefits to our clients, Elaine commented "what the accreditation does is it shows that we apply a high standard, good customer service, we are compliant, and we will go the extra mile. When choosing a payroll provider, being able to identify which organisations are accredited to the PAS standard helps to make the decision that little bit easier."
Maintaining our PAS accreditation
Receiving our PAS reaccreditation is only the first step, we will be continuing to look for areas of improvement whether that is efficiency, processes or customer service to our clients.
To aid us in doing this, as part of our PAS accreditation we receive a report with our certificate which highlights any areas that came up during the audit. Talking about how this report will be actioned Elaine said "once everything has settled down and we've got over the excitement of this, the Directors will be sitting down to have a look at that report and look at strategically how we can make things even better."
What's next for Dataplan?
We will be reinforcing the groundwork that has been laid for the PAS accreditation. Continuing to focus on areas of best practise and improvement, and one particularly important area for Elaine is our people.
As she explained "one thing that clients like is to know that we have a good culture internally and a good chunk of the assessment was speaking to our staff about it. We think it is such an achievement to be reaccredited again, and we are committed to continuing to build on our plans."
Why this is special to Dataplan
For Dataplan, receiving the CIPP's PAS reaccreditation feels particularly special. Elaine summarised the sentiment perfectly, "while we may not be as big as some of the companies out there that hold this accreditation, we are a friendly organisation providing a highly personal service and this achievement has rubber stamped our approach and what we do."