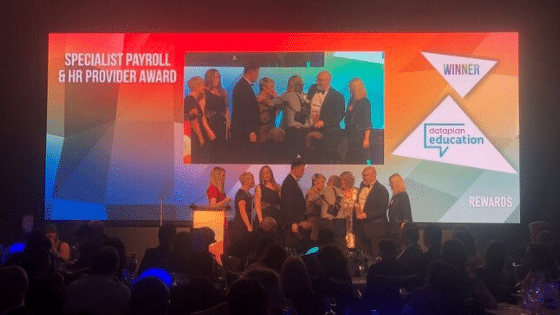 The date; 11 December 2019.
The place; the Hilton London Bankside Hotel.
The occasion; the great and the good of the UK payroll, HR and rewards sector were gathered for The Rewards Awards 2019.
We waited with bated breath as the awards finalists were read out … and the winner for the Specialist Payroll and HR Provider category is … Dataplan Education. A little stunned, but extremely honoured, we made our way to the stage to receive our award!
It was a great achievement and one we are very proud of. The category was a tough one, with 6 other excellent finalists. We were judged by a panel of 23 judges from across the payroll, HR and rewards industry.  They recognised our approach of putting the specific needs and requirements of the education sector at the heart of developing our systems and service delivery.
Dataplan Education is a specialist division of Dataplan Payroll Ltd. Dataplan was founded in 1969 and in 2007 Dataplan Education was launched. It now deals with over 700 schools across 100 Local Authority areas in the UK.
In building the Dataplan Education service, great investment has been made in developing a bespoke platform, VERA, which is tailored to the special needs of the education sector.
At the heart of the VERA system is employee data. VERA gives schools a simple dashboard and set of tools to access, manipulate and manage payroll, HR and pension information for their employees, all in one place.
Intuitive and user-friendly
Secure 24/7 web-based access – no software to install
Manages complex payrolls and contracts
HR filing cabinet (document store)
Proactive absence management
Disciplinary tracking
Handles salary calculations and salary statements with ease
VERA has been developed in consultation with schools and, through our team of in-house software developers, we continue to add features and make improvements.
Celebrating the win
The 11th December was a great event but the achievement is result of the full Dataplan team, including the unsung back-office heroes. To acknowledge this team effort we laid on a celebration staff buffet for the full company.
We also didn't want to forget our clients, so decided to mark the occasion with a donation of £500 to a charity that supports children and young people. Young Minds is the UK's leading charity fighting for children and young people's mental health. As a client of ours, we know the fantastic work they do.
Richard Rowell, Dataplan's CEO commented,
A fabulous achievement! We have an excellent team and excellent technology and this award recognises our strength as a go-to provider of specialist Payroll and HR services into the Education Sector.