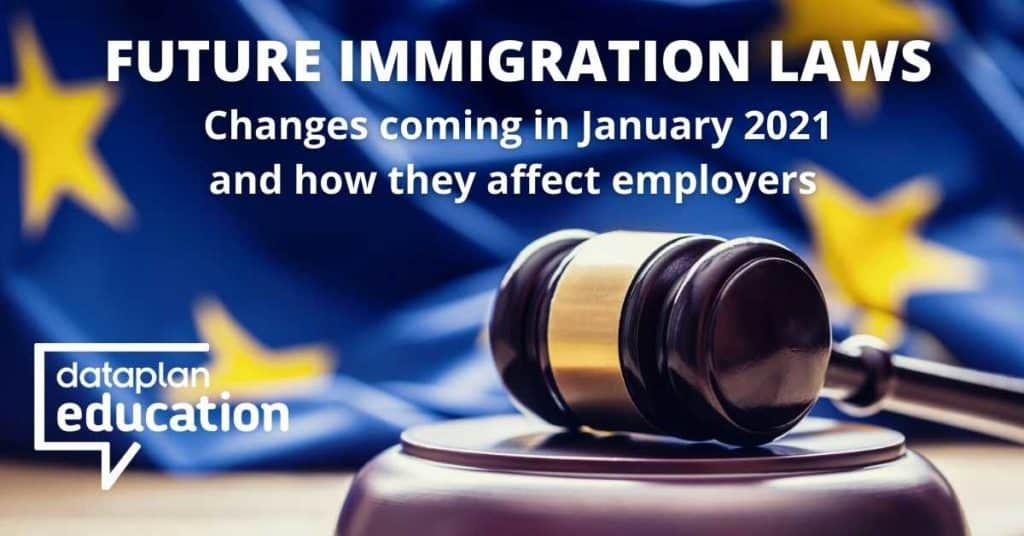 The UK's choice to leave the European Union (EU) is set to bring about several changes for organisations to consider, one of which is the impact of future immigration laws. Employers have an obligation to verify that their employees have a right to work within the UK, and with immigration laws changing this will impact the process employers follow.
The official transition period is ending
The UK officially left the EU on 31 January 2020 and entered into a transition period. This transition period is due to end on 31 December 2020, which means an end to free movement of people to and from the UK and EU impacting many schools who employ EU citizens.
The current rules
Currently the EU operates as an internal (single) market, allowing free movement of people, goods, services and capital. Therefore at the moment EU citizens have the right to take employment in the UK without any work permit, sponsorship or any other clearance and can also be joined by their dependants.
At the moment this means that people from the following countries can live and work in the UK without a permit:-
Austria
Belgium
Bulgaria
Croatia
Cyprus
Czech Republic
Denmark
Estonia
France
Germany
Greece
Hungary
Ireland
Italy
Latvia
Lithuania
Malta
Netherlands
Poland
Romania
Slovakia
Slovenia
Spain
Iceland
Norway
Leichtenstein
Switzerland**
** Not a member of the EU or EEA but is a single market member, therefore the same right to work and live in UK as other EU/EEA members applies.
If someone is from a country not on the above list they can only gain employment by a company sponsorship. There is a 5 tiered system in place for this.
Changes from 1 January 2021
There are currently two expected changes from 1 January 2021 which are the Shortage Occupation List (SOL) and Immigration Law.
Shortage Occupation List (SOL) – This will be a Government compiled list of occupations where it is believed there are not enough UK workers to fill the jobs. At the moment non EEA migrant workers have to be paid at least £30,000 (or the appropriate rate for the job) in order for the job to meet the SOL threshold. This will change to £25,600 from 1 January 2021.
Immigration Law – People who are looking to live and work in the UK from anywhere in the world will be subject to new immigration law, including, EU individuals who are currently able to work in the UK without a work permit.
How can a non UK citizen work in the UK after 1 January 2021?
For non UK citizens the right to work within the UK will be assessed via a new points based system called the "Skilled Worker Route". People seeking to enter the UK under this route will need at least "70" points at the time of application (of which 50 are mandatory), with the rest being tradeable.
Mandatory points
Have a job offer from a licenced sponsor – 20 points
Offered a job above the minimum skill level RQF3 (A level or equivalent) – 20 points
Has ability to speak English to an acceptable standard – 10 points
Tradeable points
The employment offers a salary of at least £25,600 (or the appropriate rate) – 20 points
A listed Health/Education role which meets the national pay scale – 20 points
The person has a PHD in a subject relevant to the job – 20 points
The job is listed on the SOL – 20 points
Proof of Right to Work in UK
Another key change to note is that access to the online service (to prove the right to work) will be accessible by EU citizens (it is currently accessible to non EU citizens only) – this is better for employers as it can be done remotely and removes the need for physical document checking.
Your organisation can become an approved Sponsor
To continue to employ non UK citizens from 1 January 2021 onwards your organisation can become an approved sponsor. The method for this is as follows:
Check your applicant meets the eligibility criteria outlined above.
Submit an online application form and pay necessary fees, provide the Home Office with information about the business/company.
Applications for licences take around 3-5 weeks to be considered.
Do you currently employ people from the EU?
Under the EU settlement scheme, EU nationals who are already living and working in the UK by 31 December 2020 can apply to remain indefinitely. This provides people with "settled Status". Anyone who has been in the UK at this point for 5yrs+ can apply for settled status.
Anyone who has been in the UK for less than 5yrs can apply for pre settled status and this will be updated to settled status when they hit the 5yr mark. The scheme to apply is open until June 2021.
It's a good idea for employers to encourage (but not force) any of their employees that fall into the above to apply via the Governments website Gov.uk and if possible provide time for your employee(s) to do this during working hours.
What if I employ someone illegally?
Employers can be fined up to £20,000 per illegal employee.
A criminal offence could be committed if an organisation employees someone who they have reasonable cause to believe, does not have the right to work in the UK. There is an unlimited fine or a maximum 5 years in prison.
Summary
At the present time EU nationals have the right to live and work in the UK, this will change from 1 January 2021 due to Brexit
The introduction of a new immigration system for all non UK nationals is expected from 1 January 2021
The immigration system will be points based
EU nationals currently working for companies have until 30 June 2021 to apply for settled status